Hi Peter,
I don't have the material to test this out the same way and since I am still out camping, I only have my Surface Pro 4 with 8GB RAM and using the latest patch that came out on Monday for VPX.
I put 640 photos into a folder taken using 3 cameras - DSLR, and cell phones BB and iPhone, with resolutions of 5184x3456 (3:2 but is supposed to be 16:9), 3264x1836 (16:9), 4032x3024 (4:3).
I dragged all onto the timeline. For the record, here is the message that pops up: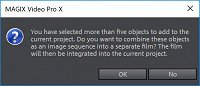 I had never tried importing in bulk before, so this was new to me. It creates a nested sequence, which I have used before.
Then I exported the main movie, the one with the nested sequence. It started fine albeit slow with 90-100 CPU usage. At about 35-40% I was getting low CPU usage, but 100% memory and disk drive usage. Then I got the request to close some programs, VPX. I didn't. Then got a memory overload error message, the project did an auto-save, then I clicked the error message off and VPX crashed.
I did not follow your instruction about not playing back the movie. I did it once, then deleted everything, including the second movie, then without closing and reopening VPX, I re-imported the 640 photos, then exported.
Did you export the nested sequence movie, or the one with the photos?
Edit: I just tried exporting the movie with the images and it went to 11s of the 21s movie before crashing.
Re-Edit: Strange, my DSLR is supposed to be set up for 16:9 but the images came in a 3:2 and the movie changed to 3:2, but the main movie with the nested sequence stayed at 16:9.
I exported the images movie as a movie, not to Magix format and imported the movie into a new project. It automatically switched to 3:2 but I changed it to 16:9 NTSC, then exported to mxv and it worked.