It's not always necessary to require cookie consent.
If your website doesn't use or read cookies then there is no need to add one.
Our templates do not include any cookies and the software itself does not add any to your site when it is published, however if you add a third party widget - Google Analytics code or similar - then this may add cookies to your site.
There are providers on the Internet who provide scripts for cookie notifications.
Go to https://www.osano.com/cookieconsent/download/ .

Via the link you will receive a script which also allows you to customize various settings.
You will be able to change the position of the banner on the page.
You will be able to change the layout.
You will be able to choose a theme color or create your own.
You will be able to add a 'Learn more' link.
You will be able to set a compliance type to allow users to opt in or out of accepting cookies.
You will be able to add your own custom text.
Notice also how the banner preview updates in the browser window as you make changes.
When you have finished creating your banner copy the code on the right to your clipboard by clicking "Copy code".
The next thing to do is to open the Web Properties dialog - it's under "Utilities --> Web Properties".
Now in the Website tab of the dialog click the HTML Code (head) button.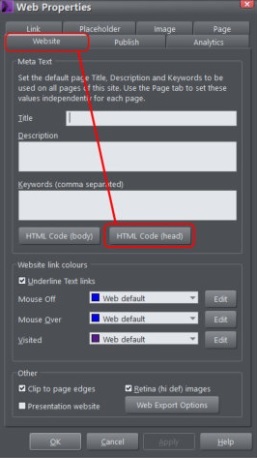 Now paste (Ctrl + V) the code into the panel and select "Ok".
Click "Apply" on the main "Web Properties" dialog.

Now check your banner by previewing using the webpage/website preview buttons on the infobar.
Don't forget that the consent banner won't appear again once you have clicked "Accept".
If your website uses "Sticky" objects  then these will always appear in front of any other page elements. 
This might be a problem if you have a "Sticky" header or footer and you are trying to configure a cookie consent banner to appear at the top or bottom of a page. 
Fix this by either turning off "Sticky" or by using a different banner position.