The photo tool provides a direct and super fast way of cropping, sharpening and adjusting the brightness levels of normal and high-resolution digital photos. Photo tool features: 
Automatically optimize photos with a single click.
Manually adjust the brightness, contrast, color saturation, photo temperature and blur or sharpness of photos.
Crop images.
A single-click "Compare" function that allows you to quickly compare changes against the original.
Easily copy/paste all photo enhance edits between different images. 
To access the individual photo tools, position your mouse cursor over the camera icon in the main toolbar on the left-hand side of the main program window.
A flyout bar will appear with icons for each of the available photo tools.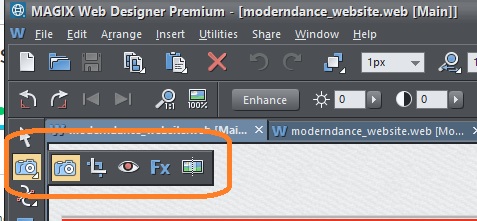 You'll notice that the control points around the image have changed shape. You can use these to crop/clip the image.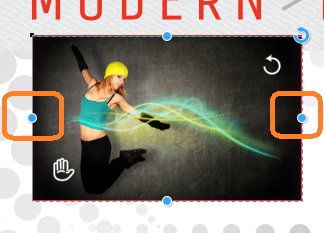 To crop images even faster, hold down the left mouse button and drag a selection box inside the image you want to crop.