Dear community,
Today we want to let you know about some upcoming changes to magix.info.
We are planning a total relaunch of the platform towards the end of this month. It will feature complete redesign and some structural changes.
 
Change to forum structure
 
The biggest change is the merging of the "Questions & Answers" and the "Forum" sections. There will be now be a single section divided into several main categories and product categories, which will make it easier for users to find their products. This new section will look roughly like the following:
 


Also, the "member forums" section will be removed. If you wish to save information from the member forums, please do so before the relaunch. After the relaunch all member forums and the information they contain will no longer be available.
 
Show & Discuss
 
The "erotic" category with all images will also be deleted.
 
Category names will be changed to predefined tags. These tags will replace the "keywords".
 
The "Charts" section requires a total conceptual redesign and for the time being, will not appear in the new magix.info platform.
 
In addition there will be a change to ratings system for media. We will no longer use the star system and will replace it with a "Like"/"Favorite" evaluation system instead.
Also, we've updated our systems to ensure they are more reliable for media uploads and processing.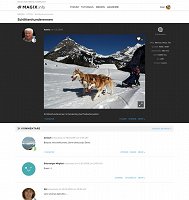 General
 
Our new focus is mobile device support. Users will now be able to ask queries on magix.info, comment, upload media, evaluate products etc. using their mobile device.
In addition to the changes mentioned above, the new platform will contain lots of other new features. We aim to create a platform that's as user-friendly as possible and are looking forward to continue developing the platform with your help after the relaunch.

We hope you enjoy using the revamped magix.info, and as always, we're grateful for any feedback.
Best regards,
the magix.info team