When using Sound Forge 12.1 I get the following message when attempting to save an audio file,
" An error ocurred while creating the media file. There is not license to use this software".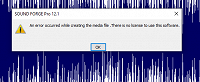 .
I have owned this software for over 20 years and recently upgraded it to Sound Forge 12. I have even tried saving it as an mp3 or wav file but still get the same message.
Does anybody have a solution?
Thanks,
Jeff