Hi there,
In samplitude pro X 32 bits on W7 64/32
I'm Using RME hdsp 9632 soundcard.
This message appeared suddently (see capture joined).
Then. I can't record and monitor any of my VSTI's on my midi track !
I searched on the help and anywhere in the program.
But couldn't go back to the function I have desactivated by error.
I have to mention it has already happened and I've never found the solution to activate these (capture).
I am a magix long time customer & have Samplitude pro X, pro X 3 and pro X 5 suite recently.
What happened ?
What I've sudently done and can repear, go back
Many thanxxxxx for your help.
Jean marie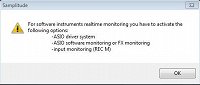 ONNI