My first looks at this version revealed a few problems:
1. The online update did not work. It said it was working but did not. I ended up downloading the patch from Magix support and running it. Answer from Magix - could not replicate the problem.
2. The above asked me to activate the program, again. It should not have done this. I successfully activated the program when I installed it. Answer from Magix - none
3. There are icons missing from the screen. The most useful one, Mouse mode, is no longer there. See the screen below for the icons in both ACL2013 and AML2014. Answer from Magix - issue sent to developers.  They also removed the fast forward button but I did not raise this issue with Magix. This was probably linked to the scrubber buttons which have now been removed. See item 6 below.
4. There is no hint when the mouse hovers over the icons. Answer from Magix - issue sent to developers.
5. Spectral cleaning appears to work, although I have not tested it extensively. However, the tool for this that was in Video Sound Cleaning Lab 1.0, which allowed listening to what was being affected or being cutout, has still not returned. This is a serious short-coming. Answer from Magix - was removed, no plans to put it back. Magix technician liked this too and does not know why they removed it. See the image below for the spectral cleaning tool that was in VSCL 1.0.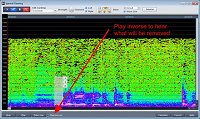 6. The scrub fader has disappeared. Answer from Magix - scrubbing removal was a design decision with the idea to make the interface simpler. Comments sent to developers. I hope they put this back in.
On the good side:
1. Addition of 5 essentialFX plugins (haven't tried them yet.
2. Video integration, as in Video Sound Cleaning Lab (VSCL). I presume that this makes VSCL redundant. Too bad a I purchased the 2014 version, which I found to be useless compared to version 1.0 which contained the excellent tool for spectral cleaning.
The first time I imported a video, the program indicated that I had to download a free expansion package to see the video. I did so. Here is the screen.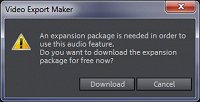 Below is the AML screen with the video loaded.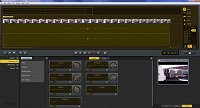 I am sure that I will find more problems as I go along.
I raised a ticket with Magix for the patch update problem, the missing icons and the lack of hints, as well as my standard complaint about the substandard spectral cleaning tool. I will post the replies here along with any more problems that I encounter. (Replies received and paraphrased above.) If anyone has found other problems, please add them to this thread.