I've been using MEP (various years) for some time to adjust music playbacks for our students. I find MEP much easier than several other audio programs I have.
I am attempting to rearrange pieces of a playback where there are several measures that I am using more than once. The first time I'm using those measures there are unwanted ritards in them. I had marked one passage with snap markers and then thought, perhaps there is a way to set the length of the distance between markers and fit it to a grid with the tempo that I want. I hope someone can understand what I'm trying to explain.

Here is a jpg of what it looks like in one passage of the music. For one passage where the ritards come in, I've snapmarked the measures and you can see that some are longer than others. Resizing them individually is difficult if not tedious. I've had to chop this stretch into pieces with each measure as one piece and then adjust each measure with the "stretch" mouse setting..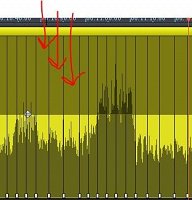 .
Is there a way? Or am I fantasizing (pun intended)? I hope that it's possible with my software (MEP Pro Premium 19.0.2.49) Can you explain to me how this would work? Thank you in advance.
Karen