Hi, this seems like a bug on VP17 and Acid Pro 9, Acid Pro Next.
I have a Behringer X-Touch One control surface configured as an External Control surface using Mackie Emulated mode. I also have the same device configured within Acid Pro Next. What I've discovered is that Acid and/or Vegas need to be completely closed out to be able to use this device in either program.
I went into both AP and VP to ensure I had "Close audio and MIDI ports when not the active application" selected, seeing as though the X-Touch One shows up as a Midi device and has to be configured under the MIDI tab in both apps to use it. In addition to this, before minimizing either of these applications and opening the other I unchecked the "External Control" under the options menu. Yet when I went to open the other app, Vegas or Acid the External controller option was not even available. Then when I would try to open a project I would get the following error message.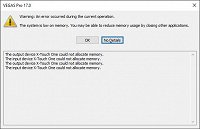 Here are my Acid Pro Next preference settings.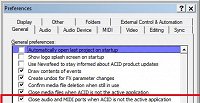 And VP17 preference settings
Repro steps:
1. Setup MCU External Controller in Vegas and enable External Control under preference menu. Close Vegas
2. Setup MCU External Controller in Acid and enable External Control under preference menu. Close Acid
3. Launch Acid Pro or Vegas Pro (We'll say for example we launched AP 1st)
4. Minimize Acid Pro (You can even add an additional step of unchecking External Control in preferences, but it does not matter).
5. Launch Vegas Pro.
Observe External Control no longer shows up under the preferences in Vegas.
6. Open a Vegas project.
7. Observe error message above about being low on system memory. I have 32GB of system memory. I am doubting I am low on system memory by having both VP and AP open with no media loaded in either.
It seems like Acid and Vegas are not closing the MIDI ports unless the programs are fully closed out, although their preference settings to close the MIDI devices are checked. I wouldn't put it past the Behringer device as well, so I would be interested to hear from others if you're using a MCU control device and could do a similar repro of using it with multiple apps.