Im having some issues with Komplete Kontrol when running it through Music Maker,
in Music Maker it looks like this: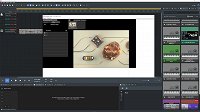 While in Fruity Loops it looks and runs like it should:
Some Komplete instruments works just fine in Music Maker though - like Carbon 2:
It seems that every time the window has to resize to something bigger than the initial size it blocks out part of the window in white and some in black.
While moving the cursor over the black parts reveals the buttons hidden underneath - no such luck with the white parts that just remain white and unusable...

Currently checking my other Plugins and software to see if the issue is found elsewhere or if it is only in Music Maker + Komplete.
Has anyone else encountered this issue?
Update 1:
Thought it might be my resolution scaling so i reset to default - No change!
Thought it might be my GPU driver as Im running Studio over Gaming - No change either way!
Thanks in advance
K'