Greetings,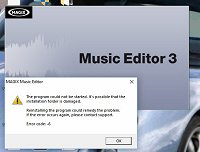 I have a problem with Magix Music Editor as installed by MEP (at the moment 2019). I've used this over the years and various MEP releases and, whether it's coincidence or not, since the last update it's not loading giving an error code -6 and advising that a reinstall may cure the problem.
Does anyone know what "error code -6" and any ideas about repairing Music Editor without re-installing all of MEP 2019 from scratch?
More to the point, is Music Editor working for anyone with MEP 2019 version 18.0.2.261.
AndyW