Hello! I'm SunSetterRiser, but just call me Sun for now. I just joined this website a day or two ago. I'm also very new to making music, so I barely know some things about it like the terms or tools/instruments musicians use. I've never even heard of MAGIX until I saw the Humble Bundle deal a week ago. I do wish to someday make music, preferably for video games or for just having the skill to make music, but I'm not sure where to start. I saw this Humble Bundle deal they had (which is now no longer on sale) that I thought would be a great start to music making. I bought the 1$ deal which had 3 programs of MAGIX on there: MP3 Deluxe 19, Music Maker EDM Edition, and Soundpool: Deeper Shades of House. I started to try installing the MP3 Deluxe 19 first, so I did the usual way of how Humble Bundle users install their bought products. But now, every time I try to install it, this happens: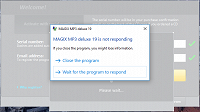 This happened 2 times already. I tried installing it when I first got it, didn't work. Day after, same thing. I entered in the correct Serial Number everytime too. Nothing pops up other than the "Please Wait" window, and then it crashes instantly. Is there something I'm doing wrong?
Also, sorry if I posted this same post twice. When I first joined, it wanted me to make a post to "begin my journey" or whatever. So, this is what my supposedly first post was going to be about, but when I clicked post, I didn't see it anywhere. I don't know what happened, but just in case if it did get posted somewhere, sorry about that. Hope this is an OK first post.