Hi all,
I'm new to "Movie Edit Pro"... and I'm struggling.
I have created a project which is PAL 4:3/ 25 fps. In a separate programme I have created a number of still images on a transparent background, and then saved them to PNG files (to preserve transparency).
My aim is to have these images move around the the screen... but when I import them into "Movie Edit Pro", they have a grey/white edge to the borders. I have been back into the files and made sure that I am not using fraction of pixels
Attached is a pic: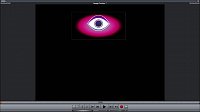 I do not want the eye to be expanded to the borders. 
Any ideas.
Thanks
UPDATE: I should have said, I'm using MEP (2013 Premium) VER: 12.03.4 (UDAA)