Music Maker Premium 31.0.2.21.
In checking out the problem raised by another user re the Magix Audio Remote Control I encountered an issue I've never heard before: namely ALL the "controls" for overall volume within MM and on my computer had no effect whatsoever in the volume of audio produced. (I have now uninstalled the Remote Control app from my phone so that is not the issue, unfortunately. It would be great, and easily resolved, if it was!)
This screenshot was taken whilst MM was playing back a very simple project. Notice where the highlighted faders are set to, and yet I was nearly being deafened (nothing was soloed).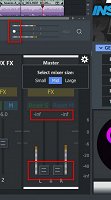 As you can see, the fader in the Transport bar is at -inf, as are the mixer master faders. But the track is clearly still playing as witnessed by the meters (and my ears!)
These are my audio driver settings; nothing has changed here for many months: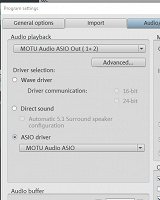 I do have also, in the SysTray, clicking the speaker icon, access to a volume control specifically for my MOTU Interface; it is set to -inf (muted) and I still hear the music, very loudly!
Bottom line: suddenly, and for the first time ever I have NO control at all over the playback loudness of an MM project.
I have verified that is NOT a problem with my computer, by playing an audio file in another DAW software: no problem to control the volume!
Any and all advice very gratefully received!
Jeff