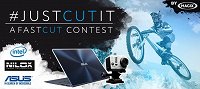 We want to give our wonderful Fastcut users the opportunity to show off their films and win amazing prizes. But what if you're not already a Fastcut user? No worries! Grab yourself a a free full version of Fastcut (worth €49.99) and attempt to climb onto the podium!

We have an ASUS Zenbook™ UX301LA powered by the Intel Core™ i7 processor and with Intel Iris™ graphics and a NILOX F-60 EVO Action-Cam for the lucky winners , while not forgetting free copies of Fastcut for all participants!


And best of all? Participating couldn't be easier!
1. Grab a copy of Fastcut by writing to social.fastcut@magix.net
2. Shoot amazing footage and edit a one minute video using one of the templates of Fastcut
3. Send us the video.
4. Win.

Interested? Check all the information of the contest in our Magazine: http://magazine.magix.com/en/just-cut-first-fastcut-contest/
Greetings,
the magix.info-Team