Pixelan has updated 2 of its plugins that work with Movie Edit Pro and Video Pro X, SpiceMaster and CreativeEase. The main update was a change making the user interface much larger. This makes the 2 programs much more user-friendly as the preview window was far too small.
I played around with some titles using some of the modules of CreativeEase today and may do a tutorial on how to use these with titles, if anyone is interested. There have been users on this forum asking about having a background with a title to make it stand out better than just the title on the background. This is quite simple to do in CreativeEase...when you know how. Here are a couple of quick examples: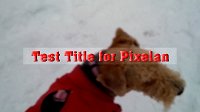 I combined CreativeEase with RiseShine for the next one.
Of course, everything can be modified. The background grain and colour can be changed and keyframed.
There is a lot more to the CreativeEase modules than just creating effects on titles, so take a look at the information and videos on the Pixelan site.
To see how I use SpiceMaster, see my tutorials under the Tutorials tab of this forum. Here is a link to the first one about SpiceMaster for transitions.
You can try out the Pixelan plugins by downloading the trial version from the Pixelan site. You'll get an X across the image until you purchase it.
John CB