Dear Community,
we are proud to present you today the new Movie Studio 2024!
SIMPLE, FAST & INTUITIVE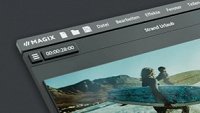 NEW DESIGN - OPTIMIZED WORKFLOW
Experience the revamped design as well as groundbreaking features like AI-generated audio commentary that will take your video editing to the next level. We've also paid special attention to stability, compatibility, and hardware support to fundamentally optimize your experience.
HIGHLIGHTS:
Effortless onboarding and transition to the new version.
Get a demonstration of the new version's features on first launch.
Redesigned program interface
Sleeker, clearer and easier to read. Movie Studio has a new look and is more intuitive than ever.
The reduced design provides more focus when working. Fonts & icons are even clearer and easier to read thanks to more contrast.
Zoom with the mouse and use the tracker to work more precisely in the preview monitor and see details better.
Edit in the preview window
Select objects in the video preview and adjust them immediately without having to search for them in the Timeline first.
MAGIX Hub - now fully integrated
Users get access to their user profile and the new online help directly in the Mediapool. Subscription users will find MAGIX content and the new Text to Speech function here.
New in the subscription: the Text to Speech Assistant - it transforms your texts into realistic voice output with the help of artificial intelligence - in seconds and in over 100 languages. Create high-quality audio commentaries without having to stand behind the microphone yourself.
AV1 codec: compression without quality loss
Revolutionary AV1 encoding saves storage space without sacrificing the quality of your movies.
Exclusive to Movie Studio Suite 365, you get a collection of over 1,700 stunning effects to make transitions between cuts creative and smooth. The helpful presets guarantee effortless application.
*Customers with current ABO versions of Movie Studio Suite 365 will immediately receive an email with the necessary information about their ProDad Vitascene V5 Pro
The enhanced INFUSION Engine 3 offers more stability and performance in all steps of video editing and gets you to your goal blazing fast.
NOW AVAILABLE: VIDEO DELUXE - PURCHASE, UPGRADE AND SUBSCRIPTION
Discover the exciting possibilities of Video Deluxe, available as a new purchase, upgrade or subscription in our online store. Find out more about the new features here.
 
EXCLUSIVE NEWS FOR VIDEO PRO X15 SUBSCRIPTION USERS
We have exciting news for our Video Pro X15 subscription users. In the coming days, you're in for an update to Video Pro X. This will also make the text-to-speech feature available in the subscription versions of Video Pro X15.

WE LOOK FORWARD TO YOUR PROJECTS!
We can't wait to see what amazing projects you come up with using the new features. Your creativity knows no bounds!
Best wishes
MAGIX Editorial Team