Music Maker 28.0.1.19
Audio recording cuts off too soon. Example, "Stop recording now" and right after saying "now" I stop recording. The word "now" will be cut off. I don't have this problem in MEP, VPX or SFACL. The loop symbol shows up in MMM and there is a small part just after the recording was cutoff.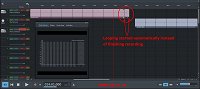 Note also that the waveform does not show, even after normalizing. I see it when I expand the track vertically, but it is very small. Recording parameters show reasonably high values in the meter, the driver for the mic is at 100% and the settings on my M-Audio M-Track are always the same. No problem in other programs with the sound being weak. When I normalize after recording, the level is usually far too high.
Anyone else see these problems?
John CB