1st Problem:
Every time on launch, it prompts me to install extra content. But every time I try to click on the checkbox, I get an error sound. This is really annoying.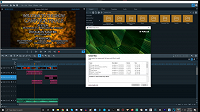 2nd Problem:
Every time I try to open the Xara3D text editor to change 3D text or edit it in the Text area of the Effects tab, the program crashes.
I already updated all my drivers as well.
My Specs: