Dear Community,
Today is the day we proudly present to you the new Photostory Deluxe 2024!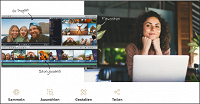 NEW CREATIVE POSSIBILITIES
From the fully optimized design to Chroma Key and AI-generated audio commentary in the subscription, you will discover dozens of new features that will bring even more expression to your favorite moments.
WHAT'S NEW:
Effortless Transition to the New Version
Let us showcase the features of the new version when you first start.
Redesigned Program Interface
Sleeker, more organized, and easier to read. The streamlined design enhances focus while working. Text and icons are now even clearer and more visible due to increased contrast.
Zoom in with your mouse and use the tracker to work more precisely in the preview monitor, making it easier to identify details.
Edit in the Preview Window
Select objects in the video preview and adjust them immediately without having to search for them in the timeline.
MAGIX Hub - Now Integrated
Users can now access their user profile and online help directly from the media pool. Subscription users will also find MAGIX Content and the new Text to Speech function here.
New in the subscription: the Text-to-Speech Assistant - It transforms your text into realistic speech output using artificial intelligence, all within seconds and in over 100 languages. Create high-quality audio commentaries without needing to be behind the microphone yourself.
With Chroma Key, you can effortlessly remove and replace color ranges, from classic green screens and blue screens to custom color selections.
Analyze video movements to attach text, graphics, or effects to people or other objects.
AV1 Codec - Lossless Compression
The revolutionary AV1 encoding allows you to save storage space without sacrificing the quality of your films.
The enhanced INFUSION Engine 3 offers greater stability and performance throughout the editing process, getting you to your goal rapidly.
NOW AVAILABLE: PURCHASE, UPGRADE, AND SUBSCRIBE
Discover the exciting possibilities of Photostory Deluxe 2024, available for new purchases, upgrades, or subscription in our online store. You can find more information about the new features there.
We are looking forward to seeing the impressive photostories you will create with these new features.
Photostory Deluxe 2024 - SETS YOUR MEMORIES IN MOTION.
Best Regards,
MAGIX Team