I have MusicMakerJam on my Android, which I love and have written quite a number of songs on. I want to tidy some of them up, so I bought and installed Music Maker Premium ? for my WIndows 10 PC.
When I import a song/project from my Android onto the PC - I get Titles for sections of my song appearing just above the Pitch bar - where the timefram appears.
eg. Intro, Verse(1), Chorus(1), Verse(2) ..... etc...... Titles I have named via the Android app.
IF I want to add MORE sections to my imported project via Windows, I cannot find how to add Section Titles ?
See Image Below - can anyone advise on How to Add a Section Title ?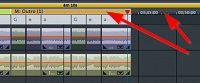 If I click on an existing Title I can Rename, Delete OR Move - but I cannot see any other options.