Dear SOUND FORGE User, 
We wish to make you aware that we have noticed that in our latest auto update patch to SOUND FORGE Pro 13 32Bit (Build 96), an error occurred during activation that makes it impossible to update the new build properly. 
This error does not affect users of the following versions: 
SOUND FORGE 13 Pro (x64 version), as well as SOUND FORGE 13 Pro Suite and SOUND FORGE 13 Pro 365 version.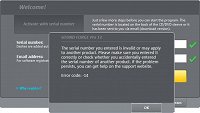 Unfortunately, it will be necessary to uninstall Sound Forge Pro 13 completely, then reinstall it. We recommend using the Microsoft Fixit Tool for the uninstallation:
https://support.microsoft.com/en-us/help/17588/windows-fix-problems-that-block-programs-being-installed-or-removed

Attention: Please save all ongoing projects as Sound Forge project files. 
The working patch can be downloaded and installed afterwards from this link: 
https://www.magix.com/us/support/my-service-center/product-downloads/
 
If you have any questions, please contact Sound Forge Support via the Magix website: https://support2.magix.com/customer/en/request 
We apologize for any inconvenience this causes you, and we thank you for your understanding. 
With kind regards, 
Your Sound Forge Team