Hi,
Magix added a couple of nice features into VPX on the Effects, Video effects, Brightness/Contrast screen, but the manual is short on detail.
The Brightness, contrast, saturation & temperature curve effect allows you to modify the parameters by modifying the curve and there are a few modes to do so. Probably it is best to put up the measuring meters and take care to not overdo anything. RGB and individual R, G, and B channels can be modified individually and each one has a modifiable curve. The mode can be changed to use Bézier handles.
The other addition is a button for "Load lookup table" or LUT. This is not documented and I had to do some research to find out what this was. i downloaded a couple of free LUTs and loaded one. Unfortunately there are two problems that I have found:
The name of the table always seems to be "generate by resolve"
Clicking on the button always goes to the default folder "C:\ProgramData\MAGIX\Video_Pro_X8" and that is not where I put my LUTs. I put them in "B:\Documents\MAGIX\Video Pro X\LUTs."
Here are the screen shots (my preview monitor is not shown as it is on a second screen.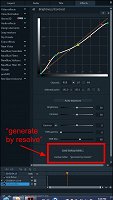 I would like to know more about how to properly use LUTs. Does anyone have a good reference?
We have Magix Movie Looks presets and Magix Bullet Quick Looks (a very condensed version), and I have Pixelan FilmTouch 2 Pro which contains extensive colour looks or colour grading and a wide array of tools to modify the presets. Are these not all similar to LUTs?
Thanks,