Using VPX11, I presume the same is in VPX12 and MEP, I have been trying to figure out how this works - Effects tab - Audio effects - Snap Markers, and if it is at all useful.
According to the manual (F1), you can set snap markers by clicking on the button (same as Ctrl+P). To use the "Align snap marker with transients" you have to first have placed some snap markers. Checking the box "Show transients" does nothing until you click on "Align snap marker with transients" which analyzes the audio, moves any snap markers to the nearest transient, and shows the transients if the box is checked. You can toggle this off and on.
However, if you add any snap markers, then click again on "Align snap marker with transients," nothing happens, so it's a one-shot deal. Of course, you can zoom in and place the playback marker on a transient or close to it and click on the "Set snap marker" button (or Ctrl+P). Note that in VPX, the snap marker on the audio may not coincide with that on the video because the video is limited to frames.
The manual states, "Transients are signal peaks in audio material that can also appear in video footage; e. g. a door slamming shut" so I expect that this method does not apply well to music and the BPM wizard would be more appropriate.
However, I think that what is presented is misleading. Here are some comments:
1. "Align snap marker with transients" - I would expect exactly that - align any snap markers with a transient, including any added after pressing this for the first time. What it actually does is analyze for transients and move existing snap markers.
2. Better would be to have a button to analyze for transients first, then the second button to move snap markers, including any snap markers added after the analysis.
3. Even better would be navigation buttons to go to next/previous transient. Then it would be easy to set a snap marker there.
4. In my example, transients are placed on background noise as well a loud noises. There needs to be some way to adjust the sensitivity to get transients only above a certain level. Transients are shown are grey lines.
Edit:
I tried it on a song and it's not too bad in this one: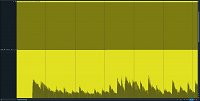 but in another one, there were too many transients to be useful.
Does anyone see any use in pursuing this further with Magix to make the effect more usable (add to the wish list)? Comments?
Has anyone else actually used this effect, successfully?
John CB