Hello,
As per the subject line: Waves VST shell v12.6 fails to load, either on startup or whilst refreshing all plug-ins.
WaveShell1-VST3 12.6_x64.vst3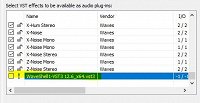 I can see there's another similar file in the same folder (C:\Program Files\Common Files\VST3) - WaveShell1-VST3 12.4_x64.vst3 - which (I assume) loads correctly and I also seem to see all available plug-ins from Waves Diamond v12 bundle that I own.
So, is this expected? Any ideas what to check to have safe peace of mind?
I am asking this question here as I had to faff a bit with similar problem with some older VST plug-ins upon installing Sound Forge for the first time, but then it somehow started to load & work once I tinkled with Registry a bit.