To import your videos from a DV camera, you will need a Firewire connection.


Connect the camera to a Firewire Port.
Switch on the camera and set it to "play mode" and then click on "stop".
Then, open your MAGIX software and select "Record > DV recording".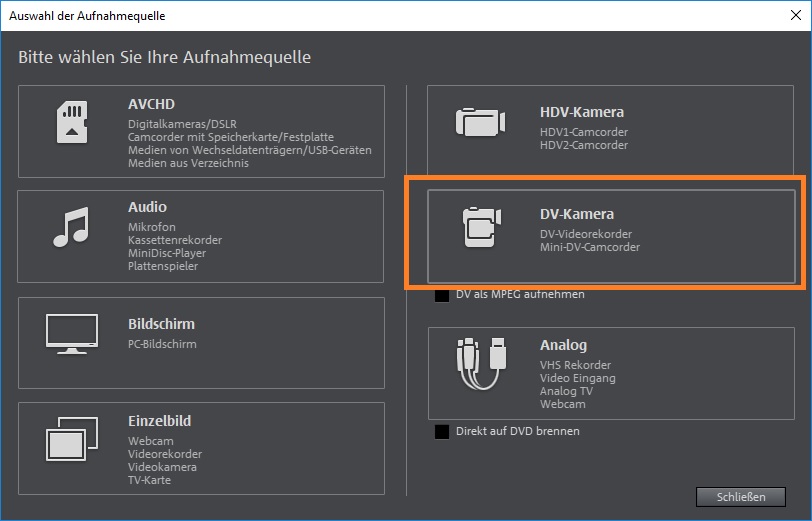 Configuring a Firewire connection in Win 7
Open the Device Manager.
Double-click on the Firewire card (IEEE Bus Controller).
Click on "Update drivers > Search for drivers on this computer > Select from a list of device drivers on this computer".
There should be several drivers displayed. Install "OHCI-standard 1394-Hostcontroller (old)".
Configuring Firewire on Win 8 and Win 10
Download 1394 OHCI Legacy Driver 
Open the file "1394_OHCI_LegacyDriver.msi".
After installing, open the directory: C:\Program Files (x86)\1394 OHCI Compliant Host Controller (Legacy)
Then, right-click on the file Legacy1394.inf and select "Install" from the context menu.
Now, open the Device Manager.
Search for "IEEE Bus Controller" in the list and click on this entry.
Select your Firewire connection. This will open the dialog "Properties of...".
Switch to the Drivers tab and click on "Search for drivers on the computer".
In the following dialog, click on "Select from a list of device drivers on this computer".
Now, click on "1394 OHCI Compliant Hostcontroller (Legacy)".
Click on "Next" and the driver will be installed.
Note for Win 10 users.
When installing Windows Updates, the driver setting may switch back to the standard driver "1394 OHCI-standard host controller". 
If you notice that the FireWire device is transferring slower or no longer working, simply repeat the driver Installation procedure.
Unfortunately, We cannot give specific hardware recommendations regarding DV recordings, since compatibility depends from various system components and conditions.
However, we can confirm that these FireWire cards have been successfully tested under Windows 10:
Dawi Control DC-FW800 PCIe
Dawi Control DC-FW800 PCIe