If you own a DVD version of one of our programs (box version), but you don't have a CD/DVD drive, it is still possible to install and use the program. In this case, instead of using the DVD to perform the installation, a downloadable version is made available for you online which you can use to install the software. To do this, follow the instructions below.
1. Sign in to your Service Center account
Enter your MAGIX Login details in the Service Center and click on "Continue".
Then, click on "Register Product".
Check to make sure your contact information is correct and click on "Continue Registration".
2. Register your product
Enter your serial number as well as the corresponding point of purchase and confirm by clicking on "Check Registration".
The window is then refreshed and the product being registered is recognized.
Click on "Complete Registration".
Click on the "List my products" button to see an overview of your registered MAGIX products.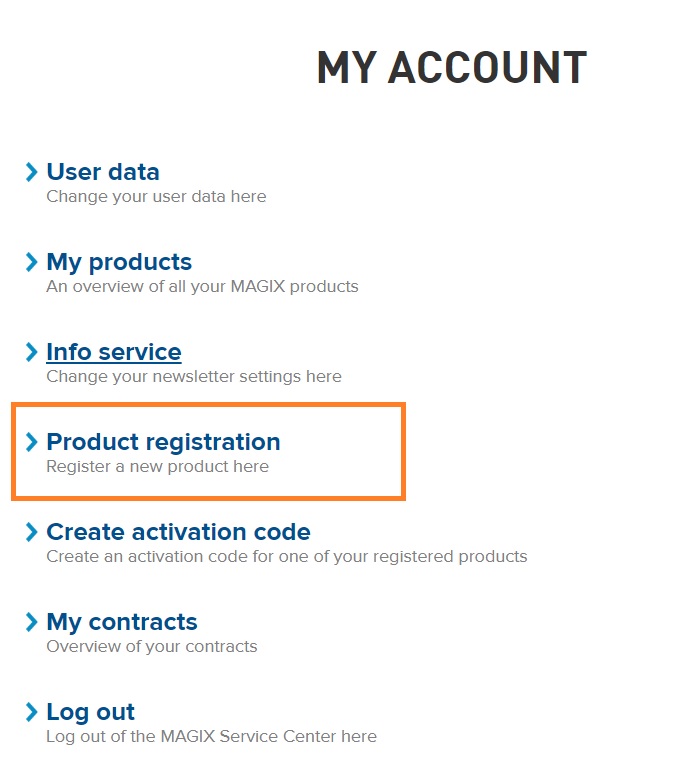 3. Download the program
In the "Downloads" row of your registered product, click "Installation Program".
A new window will open. After a security question, the download will start automatically.