Magix Movie Edit Pro Premium (bought April 2018)
I used the CHROMA KEY to produce an effect, using MIX, and then I tried HIDE BLACK, then back to MIX. With MIX this appears on the monitor exactly how I want it to look (using MIX selection). But when I go to finish the project to export, my foreground video image does not appear in the rendered exported file. Why is this? I followed the video tutorials on Chroma Key, the step-by-step instructions. I put the background video on track 1, and the foreground video on track 2. Since the foreground video was black (complete darkness, and the video was put through b/w high contrast beforehand, so it was black) except the lit objects in the center area, I first selected HIDE BLACK. But this did not hide the black. And when rendered, the foreground video wasn't there, or not on top anyway. So I then tried the MIX selection, and my background/foreground appears on the editing monitor exactly the way I wanted it to look. But after rendering, once again, the foreground image was not there, or at least not on top or appearing in the video as it was on the monitor during editing.
What is wrong with my procedure? Is there something I'm overlooking?
Can anyone help with this issue or know what is wrong? SEE ATTACHED SCREENSHOTS x2
It would be much appreciated :)
Thank You,
Mark Sanche
In the monitor is exactly the way I want it to look.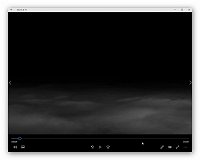 But this is the rendered exported result. My main foreground image is not there as you can see.