I just upgraded (now at 19.0.1.23 which I think is MEP2020) and now the audio portion of my video clips have all un-sync'd by several seconds and yet the waveforms show correctly.
For example, you can see in the selected clip below there is some dialog. But when you preview it, you don't actually hear the dialog until 3 seconds after the scrubber has passed the waveform.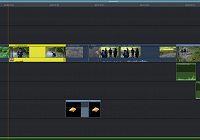 BUT - if I un-link the sound from the video, instead of just putting the sound on the track below, the program does this:
... which accurately represents what I hear - but note that the audio portion of the clip is also much longer than the video part. So i have to now re-synchronise and re-trim the audio for every clip!
any idea what is going on ?