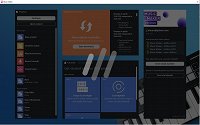 I just purchased Music Maker 2023 Premium bundle.
After installing it the pop up (updater?) just sits there with the 3 fading bars that are slanted like it's trying to connect.
It never gets past that and I've let it sit for over an hour. I have uninstalled/reinstalled a couple times and it does the same thing each time. I rebooted as well.
The previous 2 versions of Music Maker premium all ran fine (at least they had before I installed the new version)
PC is running Win 10 Pro ..plenty of ram (64GB) and drive space -roughly 20TB (a few drives)
Tried disabling Malware bytes and McAfee before running Music Maker as well ..still does the same thing