I don't know if anyone has visited here (do press the little + button to get this to show).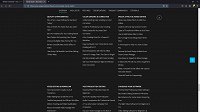 Again, not sure why they appear on the Vegas site if they are porting this product over to the MEP VPX section as it seems Movie Edit Pro will eventually become Movie Studio.
Also these pages for answers to system building but you may want to bookmark them for future reference when answering future questions. Lots of links to specific questions as well as 'How To's.
Ray.