Hi there,
For a university project I need to make a video and edit evrything together. A few weeks back I had to make a 7 minute video which rendered in about 1.5 hours (about 4 fps). Now I needed to make an 11 minute video, however this is taking way longer to render. currently it is at 8.5 hours and is expected to take another 4 hours (currently averaging around 1 fps). There is almost no GPU usage, not a single core is maxed out and I am just utterly frustrated that most of my resources are not being used.
PC Specs:
Intel i8700k, IGPU enabled
Nvidia GTX 1080 Ti, Game Ready Drivers
32 GB of DDR4 2666 MHz RAM
960 EVO 1TB SSD where it is writing to, ST2000LM015-2E8174 Seagate Barracuda 2TB HDD where the material it is editing together is stored.
The video I am rendering is a 1080p 60 fps, HVEC format. It says in the overview that hardware encoding is enabled, though I have my doubts about it. Here is a screenshot of the export overview: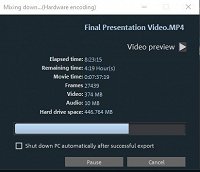 Any help is appreciated!